My Chingu Paling Vavavooom!
Assalamualaikum and Annyeong Haseyo :)
Ni haaa guwe mau story sikit about my chingu. Apa tu chingu? Lol. Chingu tuh asal dari bahasa korea kalau omputeh cakap friend. Mean chingu tuh friend okay anakk-anakk yg mana taktau tuh. Taktahu tanya ingat pesan guwe ni ekekeke. Okayokay, Guwe nak memperkenalkan kamu semua dengan chingu guwe, chingu yang paling rapat dengan guwe kat kelas 4UKM tapi takde laah rapat sangat. Alaa bak kata apek gitu-gitu aje. Haaa macam gitu laah haihh guwe pening dehh -.- Hikhik. Ya udah, mari guwe kasi tunjuk gambar omeeii dia tuwww. auwww.
Hamzi in the house! Hahaha. Omeii tak chingu kite sorang ni. Omeii kan? HAHA. Paling omeii tang tahu lalat tuww. Fuhh! Maintain jea kat situ. Ekekekke :P Bedeweyy, Budak ni ada iras ala-ala Lee Hong Ki Oppa tak? Ada lah iras sikit tapi perangai sama ohh mcm Oppa. Kan kan? Mehhlah kasi tunjuk sikit gambar Hong Ki Oppa ni. Sama tak sama mehh kite kasi terjah sikit noooo.
Yaaa! Memang tak samaaaa langsung. Bo? >< Heee.
Tengok muka macam budak baik jea kan? Muka suci kemainnn lagi dia buat. Tapi hakikatnya, omo omo! Otak dia gila kentang. Kentang pun tak macam dia haha. Mmg aku respect la kat dia tuwww pandai buat lawokk huohuohuo. Time guwe sedih ke hape ke, Dia lah yg pakar buat guwe ceria balik. Nanti bila guwe golak, dia selalu cakap "Golak-golak" . Dah dia buat lawok , kito golak lah kan. Bilo golak, maroh pulok. APTB betuii. Ngek hang ni. hhahhaa.
Kiteorg suka begusip. Kiteorg begusip mengalahkan cik kiah and cik joyah tau. Tapi, kiteorg ni pandai simpan rahsiooo. Prebesi gituu :DD Hikhik. Always share prob. Paling banyak prob guwe sih. Guwe selalu story sama dio tentang prebesi guwe sendiri. Dia kdg-kdg boleh dpercayai kdg-kdg tak. Dio bukan bole pcayo sgt, Bilo guwe ckp mcm tuw nanti mula lah dia cakap "Tak pcaya sudah" air mata pung kluaaa. Mulolah nak report kat Madam dioo kite pung takut ah kan. Takut Madam dio baling Polident kat kitoo. Nak sedapkan hati balik, aku tarik balik kata-kata tuww, Pujuk dia kemain lagi tetibe air mata dia termasuk balik dalam mata senyum pun smpai ke telinga astro dia tuww waloohhh sukoo kemainn lagi bilo guwe puji dia. Dia pantang dipuji. Ekekekek. Bilo dipuji, kembang semambang dio tang telinge. Fuhh! Acanehh tak makin lebar telinge tuh.
Yang mmbuatkan aku terpikat kat dia nih kan kan, tangg muka dia tuw. Baby face look :O
#Okayy hamzi sila kembang
. Skretchhhh! Ehh bunyi apo tuh? :O Guwe tdongar bunyi bende terkoyak. Ah biarin aja! Hahaaha. Kesah apo guwe. Hikhik. Seriously muke kaw baby face doo . Tak pcayo? Hentak kple kaw kat dinding 100x.
Kdg-kdg nyampah jugak aku kat dio ni. Bo? Yang paling taksuka bilo text dgn dio ni kan, asyek okbai okbai jea. Siapa tak geram. Pshiuuuu! Tapak tangan terbang kat muka ;DD Ekekeke.
Guwe nak cerita pasal dia, nama dia semua sebenarnya ni tapi kelaut pulok. Hahhaha. Mehh lah intro sikit dia ni. Budak paling HOT kat SMKSR! Nama dia Mohd Hamzi Nordin. Lepas aku lahir, Esoknya baru dia lahir. Hihihi tak pcaya? Guwe lahir 29dec , Dio lahir 30dec. Amacammm? Miracle tak? HAHA ;DD Aku ni pangkat akak lahh kan. Bo? Kalau dia lahir 29dec kan bagus, Bole jd kembar guwe. Ishh , tapi apekan nasib. Dia nak kluaa 30dec, hahh guwe udah menangis , minum susu ape semua baru dia lahir. Ekekekek :P Ciri-ciri dio, Dia ni hansemm, Baik pulokk, Berkarisma-kaporrr, periangg lah sgt, shoo tiutt miutt.
#melebih pulok guwe
. Cito-cito dio taktau. Status? Ehemmmm, Single and taktau available ke tak :P Hahaha. Dahlah malaslah nak cerito, apo-apo pun kalau nak kenal-kenal kah dengan si Hamzi ni add jea facebook dio. Dahlah Baiii! Hahhaa. Haippp! Kejapkejap nak tayang gambar dia lagi. Hihihi.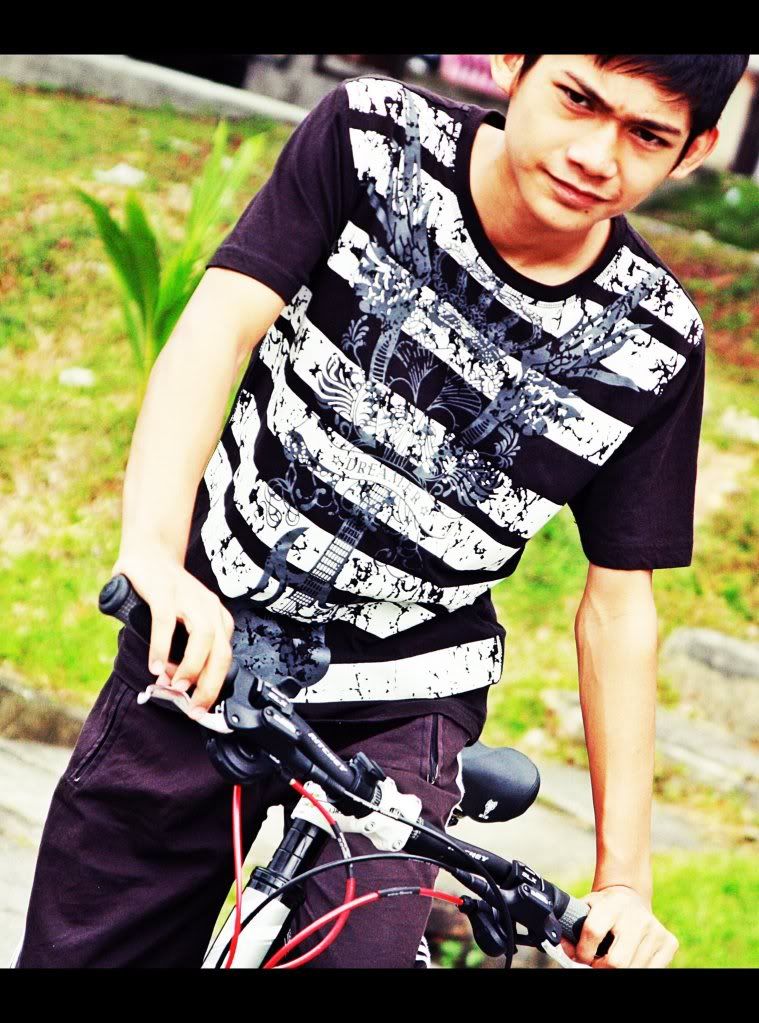 Gambar peberettt guwe ;DD
Dear Hamzi Ngekk, Sorry kalau aku melebih-lebih :p Macam taktau pulok aku canehh.
Aku bukannya apo, nak kasi kaw pemesss. Hikhik. Watpeaceeee (n___n)Y
SchaDayanti :)